Panning for gold has been a tradition for more than a century. Many local communities have been built because of the efforts to find hidden gold in mountain streams, wandering creeks, and under the ground. It has turned into more of a hobby today than a way of life, but it is possible to make good profits when you have the right location and good equipment to support your work.
That is why the best gold panning kits and gold sluice reviews are of benefit. If you've been thinking about taking up this hobby to explore the outdoors, get active, and maybe make some cash, then here is what you'll want to know.
The Best in One Chart
There are many gold panning kits that you can find online today. Sluice boxes come with many different shapes and styles. To maximize your chances for success, you deserve the best products possible. These are the top-rated choices in each category.
What's in a Panning Kit?
The gold pan is your most basic item needed for prospecting. It helps you to sort through soil and sediment to see if there is any gold lingering there. The shape, color, and size of the gold pan that you use is really about your personal preference. Material choices, however, can make a big difference in your gold panning experience.
Plastic gold pans tend to be lighter and come in multiple sizes that are highly affordable. Steel pans are heavier, but can handle rugged conditions better. If you are planning to venture out to prospect a few times per year, a plastic gold panning kit can probably serve you well.
If you intend to be a weekend warrior, a steel pan is the better option.
You'll need more equipment than just the gold pan to uncover potential profits when exploring the outdoors. Purchasing this equipment in the form of a kit is usually the cheapest way to get everything you need to get started right away straight out of the box.
Look for gold panning kits that offer these essentials at a minimum.
A snuffer bottle.
High-quality suction tweezers.
A shovel, digger, or crevice tool.
Instructional guides or videos.
A magnifier.
Although it isn't required, having a classifier in your gold panning kit is often worth the investment. This screening tool makes it much easier to remove gravel, pebbles, and miscellaneous debris that you want to sort through to find gold. It will fit onto a 5-gallon bucket and make life a lot easier for you.
What Is a Sluice Box?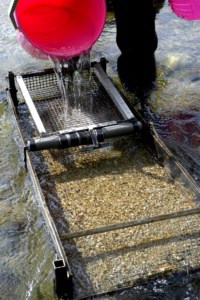 When you have a sluice box at your disposal, then you're essentially creating a "stream within a stream" in your search for gold.
A good sluice box can be positioned with stability in the natural flow of a creek or stream. You would then use it to separate the black sands and other tailings that you don't want from the gold that you need.
It is a portable solution that allows you to process much more sediment, black sands, and crevice scrapings compared to the swirling actions of a gold pan.
Most sluice boxes have an outward flair on the upstream end of the box. This allows water to flow freely through the box and sort the materials for you. There are no moving parts with this equipment, relying on the water movement to get the work done.
There are "riffles" built into most sluice boxes that allow the heavier gold items to fall into a catching mat.
Do I Need a Gold Panning Kit and a Sluice Box?
You can find gold using a good gold panning kit. You can find gold using a sluice box.
You'll save time by using both items together for your prospecting work.
Gold prospecting requires you to process as much material as possible to find concentrates that may contain gold. For those who take this hobby seriously, they'll use the classifier on a gold panning kit to sort out the large debris that doesn't need to be processed.
Once the material has been classified, it can then flow with added freedom through the sluice box. You'll have fewer debris items to remove from the riffles and this will speed up your processing. You can then harvest the concentrates quickly and with less risk of experiencing loss.
After the classified materials have been sent through the sluice box, you can harvest the concentrates that get trapped in the "troughs" of the design. At this point, you can take the concentrates home and do the final gold panning work there. You can also do it at the stream or creek.
It's also easier to take apart your sluice box at home so you don't lose any concentrates. Gold dust is just as valuable as a gold nugget, but can be difficult to harvest when you're in an outdoor environment.
Why Do Gold Pans and Sluice Boxes Work Well to Recover Gold?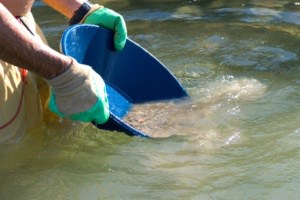 Gold is remarkably heavy compared to other minerals, metals, and materials that you'll find in an outdoor environment. This causes it to sink when it is placed in water. The added weight then allows you to "trap" the gold at the edge of a pan or within a trough so that it can be recovered.
Even gold dust is heavier than the surrounding items, causing it to eventually sink to the sediment of a creek or stream. By harvesting this sediment and removing the concentrates from it with these tools, you can turn prospecting into a profitable hobby.
A quick look at weight comparisons shows just how heavy gold happens to be compared to other materials and metals. Gold weighs 1,206.83 pounds per cubic foot. Sand, even when it is wet, weighs 10 times less than gold.
There are only three metals that weigh more than gold.
Osmium, which weighs 1,402 pounds per cubic foot.
Iridium, which weighs 1,396 pounds per cubic foot.
Platinum, which weighs 1,339.2 pounds per cubic foot.
That is why gold panning is more effective than panning for other metals, such as silver or copper. You may wish to watch for platinum while gold prospecting, however, because of its weight and value. Platinum historically trades at a price that is comparable to gold.
Tips to Avoid Gold Loss When Prospecting
#1. Tweezers are an essential item in any gold panning kit. They need to be large and strong enough to handle the small gold nuggets you might find, but still fit within the troughs of the sluice box being used. A standard pair of bathroom tweezers can work in a pinch, but a professional tool works better for gold recovery.
#2. The matting or carpet of the sluice box will contain concentrates that you will want to process. Instead of removing the carpet or matting and washing it out, add the materials to processing to ensure that you recover whatever gold may be there.
#3. It is easier to take your concentrates home because you can process them at any time. Spend your time outside processing as much material as possible. That will give you the best chance to find gold and avoid loss while you're working.
#4. Consider using one of the best metal detectors for gold to assist with your work. Professional-quality metal detectors can help you find gold veins in bedrock crevices that may be difficult to access with your panning and sluice work.
#5. Do not add gravel to your sluice box rapidly. Rocks are also heavy and will try to get trapped in the troughs. As they hit the edges of the riffles, they will tumble through and take any gold that might be around with them and go downstream into the river.
#6. Your gold should be settling into the first trough of your sluice box. If it is not doing this, then you've got the angle of the box wrong relative to the flow of the river or you're funneling debris that is too large through the box.
How Much Does a Sluice Box Cost?
In the past, gold prospectors would make their own sluice boxes. With a few boards, a little mountain moss, and a bit of ingenuity, you could still make a DIY sluice box on the cheap.
Since a lightweight entry-level sluice box can be purchased for $100 or less in many instances, many hobbyists opt for a manufactured option that can be used straight out of the box.
Powered sluice boxes are an option as well, especially if you prefer to sort your black sands and other classified materials on the shore. These tend to cost a bit more, ranging anywhere from $200-$1,000. The final price depends on the materials used, the size of the box, and the strength of any motors that are included.
Look for aluminum sluice boxes for the best results. 
Best Gold Sluice Boxes Reviewed Right Now
Our 5 Best Gold Panning Kits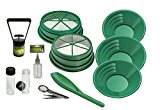 This 11-piece kit gives you plenty of equipment for the whole family to get involved with the prospecting process. You'll receive 2 large screens, one ½-inch and the other 1/8-inch, so they can be stacked on a 5-gallon bucket for a better classifier result. It includes a vial to hold your found gold, a snuffer bottle, tweezers, and scoop as well. The gold pan includes riffles to help the sorting process. All in all, this is a great starter set that you can use straight from the box.
Click here to find the best price on Amazon.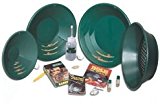 If you just want the basics in your panning kit, then this is a solid option to consider. It gives you three pans, ranging from 10 inches to 15 inches, a classifier, a guzzler bottle, and helpful guides to help you develop your prospecting skills. You do need to break your pans in before using them. A light sanding should do the trick so you're not stuck with a film on your potential gold. The heft of the pans is good and this entire kit is easy to use. Suitable for beginners or experienced prospectors.
Click here to find the best price on Amazon.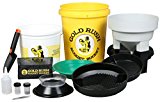 Many panning kits give you the pans and clarifiers, but leave the other supplies to your own discretion. We liked this kit because it comes with the buckets you need and some innovative technologies. The fluid bed concentrator is a great option, mimicking what a sluice box can do, so you can have your gold dust become concentrated. It's as simple as scooping in your soil or sediment, pouring water, and letting gravity do the rest of the work. This is an excellent option for the occasional prospector who wants to maximize results over a weekend here and there.
Click here to find the best price on Amazon.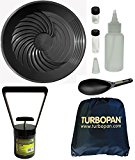 This kit comes with all the basics and a single 16-inch pan to use. What sets it apart is the inclusion of a black sand magnet. The magnet is a useful tool to help you remove the magnetite that can be lingering in the sediment from your concentrates. It helps the separation process go smoothly and reduces the amount of time you need to spend panning. You will want to make sure your final concentrates are dry before using it, however, as wet sands are less responsive to the magnet.
Click here to find the best price on Amazon.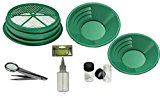 If affordability is your primary concern, then this is the gold panning kit we would highly recommend. You still receive a stackable screen that fits on a standard 5-gallon bucket. Two gold pans are included as well, along with a snuffer bottle, loupe, tweezers, and a vial to hold what you find. This kit works well to get someone started with prospecting or function as an emergency backup for a more experienced individual.
Click here to find the best price on Amazon.

Our 5 Best Sluice Boxes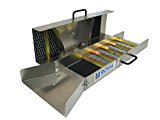 This sluice box gets all the basics right, from design to manufacturing processes. It offers a wider upstream mouth to create more water pressure through the channel over the troughs. Made from aluminum, the riffles are made from a zinc-coated steel. We'd recommend clarifying before using this sluice box to prevent damage to the riffles, though the coating is strong enough to take on the occasional pebbles. The flair, riffles, and carpet are all removable too. It's compact, portable at just 3.5 pounds, and makes your prospecting work a whole lot easier.
Click here to find the best price on Amazon.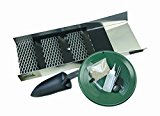 This small sluice box is perfect for those compact bends, turns, or small obstacles that might help to collect gold in a stream. We appreciated the actual gold that is included in a "paydirt" package so you can get a feeling of what prospecting for gold is really like. There are just two riffles in this model instead of the four that are offered by other manufacturers, but it still works well. As part of a kit, you'll also receive a gold pan, scoop, and loupe to turn your prospecting dreams into reality.
Click here to find the best price on Amazon.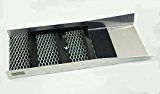 This is another 24-inch sluice box, composed of aluminum, that offers an 8-inch channel for water to pass through. The upstream entry is slightly wider, creating some added water pressure to help catch items passing by. The riffles are a little wider lengthwise as well, providing a better opportunity to capture gold within the reduced size. The carpet could be improved a bit to help you harvest your concentrates, but it is the perfect size for a weekend warrior or hobbyist prospector who wants a reliable sluice box to use.
Click here to find the best price on Amazon.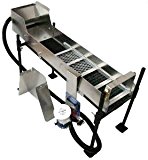 This powered sluice box kit is a great option if you prefer more of a highlander experience. Set up this box along the shore and then power the water through your clarified materials to discover if there is gold present. It's 32 inches long and 6 inches wide, giving you a good amount of water pressure to create separation across the riffles. The pump on this model can process 800 gallons of water per hour and comes with 4 feet of ¾-inch hose so that water collection is super simple. If you're tired of getting in and out of the water with a basic sluice box, you'll want to give this option a try today.
Click here to find the best price on Amazon.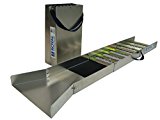 This compact sluice box is the hobbyist prospector's dream product. It folds down to fit into a standard 5-gallon backpack. It will also fit in most backpacks. The upstream flare is nearly 14 inches wide, concentrating the water to a 9-inch wide channel with multiple riffles to capture the gold you've found. The hinges do require some care, especially if you use this sluice box on a regular basis, but otherwise we found this to be one of the best gold sluice boxes that you can find in any category.
Click here to find the best price on Amazon.
The best gold panning kits and gold sluice boxes will help you take your prospecting to the next level. Whether you're a beginner or an experienced hobbyist with decades of experience, the quality of your equipment matters. Invest wisely today into one of these products and who knows what you might find on your next prospecting trip.